Summer is synonymous with salad, and now salad is synonymous with Kathleen Ashmore, Tik Tok Star and Local Moms Network Food Contributor. Her "Hungry Lady Salad" series is turning even salad skeptics into believers, and this Berry Caprese Salad is her latest creation for summer.
INGREDIENTS
4

cups

strawberries

halved

4

cups

fresh blackberries

8

ounces

fresh mozzarella balls

4

cups

arugula

1

small shallot

sliced

1

Tbsp

extra virgin olive oil

Juice from 1 lime

½

teaspoon

Kosher salt

Small handful of mint leaves

chopped

Prepared Balsamic glaze

to serve (optional)
INSTRUCTIONS
1.  
In a large bowl, dress arugula with juice from ½ of the lime, and ¼ tsp salt and 1 Tbsp extra virgin olive oil.
2.  
Lay dressed arugula on a large, shallow serving platter.
3.  Top with berries, mozzarella, and scatter the fresh mint over top.
4.  Finish with ¼ tsp salt, juice from the other half of the lime, and balsamic glaze if using.
This delicious but simple veggie dish can be served as a side or the main dish. What better way to kick off the weekend than with zesty artichoke recipe!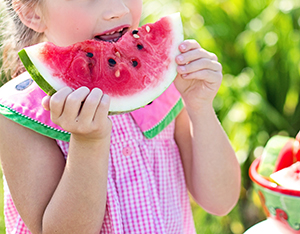 Cooking healthy meals that are delicious and satisfying can be hard work for us moms! Lately, I've been struggling to curate a healthy breakfast, lunch and dinner that include all of the important nutrients and vitamins, only to have my kids come to the table with a stubborn palate.