Recently, we introduced you to Carly Stein, the women behind Beekeeper's Naturals, and the many benefits of propolis, a super ingredient made by bees that has antibacterial, antiviral, antifungal and anti-inflammatory properties. Since we're always looking for recipes that are both A. quick and B. healthy, we asked Carly to share her favorite breakfast.. "If you're looking to energize yourself with plenty of good fats and antioxidants in the morning, here's a delish keto smoothie with propolis to get your day started off right," says Carly.
Ginger Coconut Smoothie with Propolis
1/2 avocado (3-4 oz)
3/4 cup full fat coconut milk (canned)
1/4 cup almond milk
1 tsp freshly grated ginger (about 1/2 inch knob)
1/2 tsp turmeric powder
1 tsp lemon or lime juice
1 cup crushed ice (or more for a thicker smoothie)
4 spritzes of Propolis Throat Spray
natural sugar-free sweetener, to taste (optional)
Go to http://www.beekeepersnaturals.com/discount/localmoms to receive 15 percent off!
This pumpkin chili recipe from Chef Debra Ponzek is a classic fall dish, full of seasonal flavors like pumpkin and butternut squash. Like all chilis, it's versatile and can be made ahead and frozen, making it a go-to for busy  autumn nights. ...
Rockets of Awesome offers a convenience way to update your kids' wardrobe with quality, adorable pieces.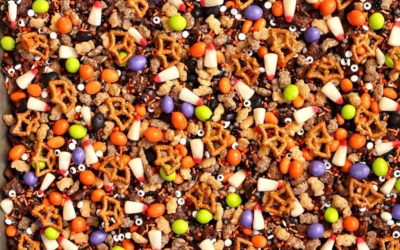 Halloween is almost here and we're adding this Spooky Snack Mix from The BakerMama to our shortlist of fun treats to make. It has all the things we love in a holiday snack—sweet, salty, festive and a healthy dose of nostalgia. Maegan, the talented mom behind...