Thank you to Leah Koenig, author of The Jewish Cookbook, for sharing this recipe, which originally appeared on Food 52.
                                     Credit: Mark Weinberg
 These sweet rendition of latkes will be a hit at Hannukah, but also a fun, festive breakfast all year round. More like a pancake than a tradition latke, they are tender and light, and filled with ricotta cheese. Happy Hannukah to all who celebrate!
Ingredients
3 ounces cream cheese
3 eggs
3/4 cup all-purpose flour
3 tablespoons sugar
1/2 teaspoon baking powder
1/2 teaspoon kosher salt
1 teaspoon vanilla extract
1 1/2 cups ricotta cheese
Unsalted butter or vegetable oil, for frying
For serving: Cinnamon sugar, jam, sour cream, or maple syrup
Directions
Add the cream cheese, eggs, flour, sugar, baking powder, salt, and vanilla extract to a food processor and process, scraping down the sides of the bowl as necessary, until the mixture is completely smooth and the consistency of loose pancake batter. Transfer the mixture to a large bowl and fold in the ricotta cheese until combined.
Heat about 1 tablespoon of butter in a large skillet over medium heat, swirling the pan to coat. Working in batches of 5 or 6, drop the batter by the heaping tablespoon into the skillet, nudging it into a circle with the back of a spoon. Fry until golden brown on the bottom, 2 to 3 minutes; flip and continue frying until the latkes are cooked all the way through, another 1 to 2 minutes. Transfer latkes to a plate and serve immediately with desired toppings.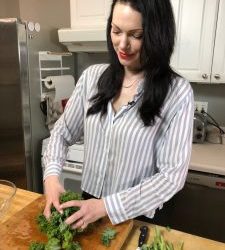 Actress and director Laura Prepon has played plenty of memorable roles in her life—feminist teenager Donna Pinciotti on That '70s Show and prison inmate Alex Vause on Orange Is the New Black both come to mind—but her newest one is mom to 1-year-old Ella, who she shares with husband Ben Foster. Here she speaks to The Local Mom's Network about how motherhood has fundamentally changed her life, from how she cooks to how much she worries (hint: both are more now).
Anyone else taking on Elf on the Shelf moving responsibilities this time of year? Since 2004, The Elf on the Shelf brand has grown from a single children's book, written by mother daughter team Chanda Bell and Carol Aebersold as a way to reconnect with...
Once cold weather months are upon us, we begin craving the dishes that keep us warm and stick to our ribs.  One fall favorite for my family is good old fashion, macaroni and cheese.  It's filling, super comforting and meal my kids always request.  Because...