Eva Amurri Martino—the blogger behind Happily Eva After—loves putting together classic Christmas cocktail parties, which she says satisfies her annual case of holiday nostalgia. "The classics never go out of style, and Christmas cocktails are so delish!"...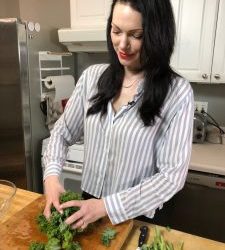 Actress and director Laura Prepon has played plenty of memorable roles in her life—feminist teenager Donna Pinciotti on That '70s Show and prison inmate Alex Vause on Orange Is the New Black both come to mind—but her newest one is mom to 1-year-old Ella, who she shares with husband Ben Foster. Here she speaks to The Local Mom's Network about how motherhood has fundamentally changed her life, from how she cooks to how much she worries (hint: both are more now).
Anyone else taking on Elf on the Shelf moving responsibilities this time of year? Since 2004, The Elf on the Shelf brand has grown from a single children's book, written by mother daughter team Chanda Bell and Carol Aebersold as a way to reconnect with...