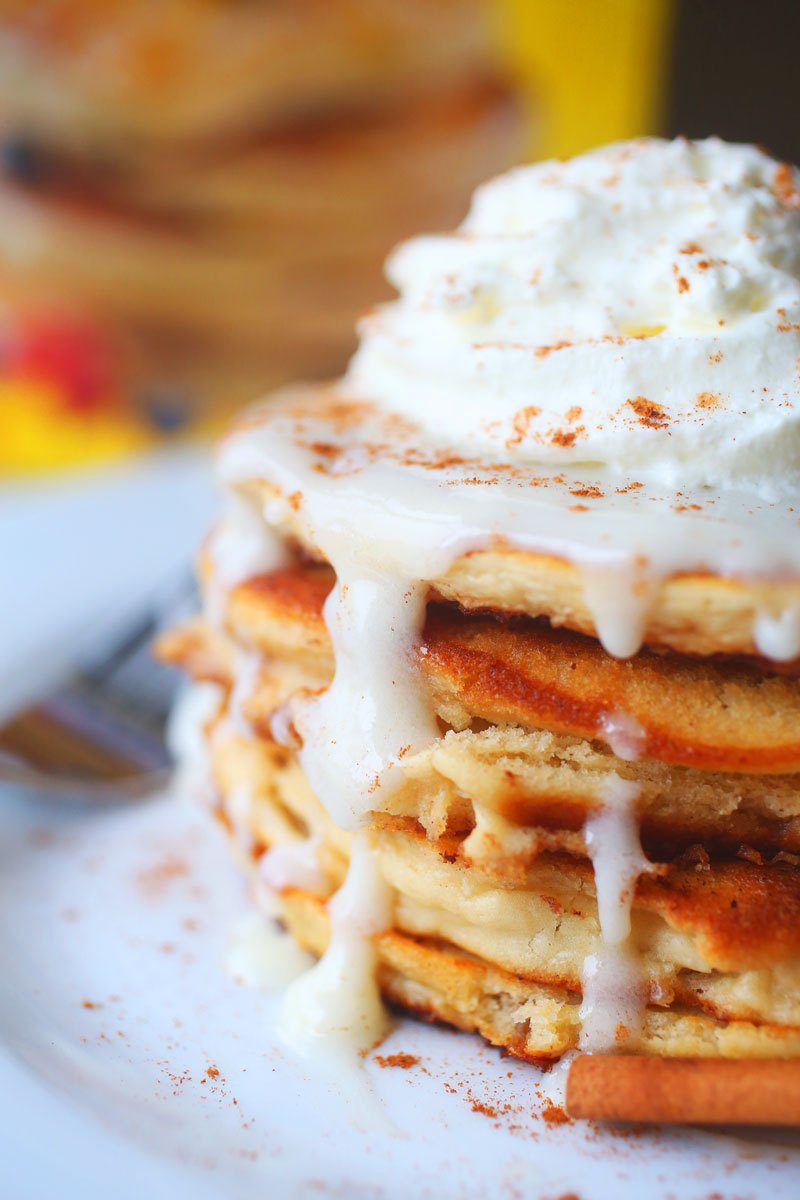 Cinnamon rolls are a favorite holiday treat, but the maple-infused pancake version below, from Nicole Washington—the talented mama behind the Brown Sugar blog—is a perfect Fall breakfast. It uses simple ingredients you probably have in your pantry—including pancake mix to make them extra easy! A simple piping technique is used to achieve the classic look of cinnamon rolls. Stay tuned for our Meet a Mom interview with Nicole, and in the meantime, check her out at bsugarmama.com and on Instagram at @brownsugarfoodblogger!
Maple Cinnamon Roll Pancakes
Serves: 8
Ingredients
2 c. Bisquick
2 eggs
1 + 2 tbsp. Milk
1 tsp. Vanilla extract
¼ tsp. Maple Extract
Instructions
In a large bowl, mix together Bisquick Pancake batter, eggs, milk, vanilla extract, maple extract, and butter until well combined.
In a separate small bowl, combine 5 tbsp. Butter, brown sugar, and cinnamon and mix. Pour the cinnamon mixture into a piping bag or food storage bag. Set aside for 5 minutes to allow the cinnamon mixture to set and don't cut open the tip of the bag until ready to use.
Heat the griddle and melt a tablespoon of butter. Pour ½ cup of pancake mix onto the griddle and, in a circular motion, pipe the cinnamon mixture. Cook on both sides for 2-3 minutes.
To make topping, in a small bowl, mix the cream cheese, milk, powdered sugar, and vanilla extract. Mix until creamy.
Top the pancakes off with the cream cheese topping and whipped cream if desired and serve.
Deb Ponzek is a mom, chef/restauranteur and author of several popular cookbooks including The Dinner Survival Cookbook and The Family Kitchen. This week she's sharing her go-to fall cocktail for entertaining—an easy mulled wine perfect for sharing with...
This pumpkin chili recipe from Chef Debra Ponzek is a classic fall dish, full of seasonal flavors like pumpkin and butternut squash. Like all chilis, it's versatile and can be made ahead and frozen, making it a go-to for busy  autumn nights. ...
Rockets of Awesome offers a convenience way to update your kids' wardrobe with quality, adorable pieces.