This easy crisp makes for a healthy Thanksgiving dessert or a yummy breakfast any morning. Skip peeling the apples, and you'll save time and boost the fiber content.
Thank you to our food contributor Kathleen Ashmore for sharing. Go to kathleenashmore.com to find all her recipes or follow her on Instagram @kat_can_cook. 
No-Peel Apple Almond Crisp
Serves 6
Filling:
3 medium large apples, cored and sliced thinly
1⁄4 cup unsweetened almond milk
Zest from 1 lemon
1 teaspoon vanilla extract
1 Tablespoon arrowroot powder, or 2 teaspoons corn starch
1⁄2 teaspoon kosher salt
Topping:
1 cup almond flour
1 cup old-fashioned rolled oats
1⁄2 cup sliced almonds
1⁄3 cup unsweetened coconut flakes
1⁄2 cup Grade B maple syrup
1 teaspoon ground cinnamon
1⁄4 teaspoon ground nutmeg
1⁄2 teaspoon kosher salt
1⁄2 cup coconut oil, room temperature (can sub butter)
Directions
Preheat the oven to 375 degrees F.
Make the filling: In a medium bowl, gently toss sliced apples with the rest of the ingredients until combined, then pour into a pie plate or cast iron skillet and spread evenly. Set aside.
Make the topping: In a large bowl, combine all ingredients and mix with your hands until it starts to clump together. This won't take long.
Arrange the topping on the apple filling and bake for 40-45 minutes until the fruit is soft and bubbling and the top is golden brown.
Serve warm with coconut whipped cream as I do, or with regular whipped cream or ice cream.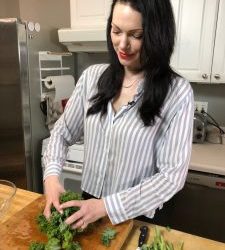 Actress and director Laura Prepon has played plenty of memorable roles in her life—feminist teenager Donna Pinciotti on That '70s Show and prison inmate Alex Vause on Orange Is the New Black both come to mind—but her newest one is mom to 1-year-old Ella, who she shares with husband Ben Foster. Here she speaks to The Local Mom's Network about how motherhood has fundamentally changed her life, from how she cooks to how much she worries (hint: both are more now).
Anyone else taking on Elf on the Shelf moving responsibilities this time of year? Since 2004, The Elf on the Shelf brand has grown from a single children's book, written by mother daughter team Chanda Bell and Carol Aebersold as a way to reconnect with...
Once cold weather months are upon us, we begin craving the dishes that keep us warm and stick to our ribs.  One fall favorite for my family is good old fashion, macaroni and cheese.  It's filling, super comforting and meal my kids always request.  Because...