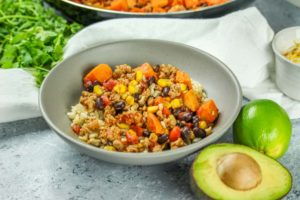 I found this recipe on Yummly originally, and it has become a staple in our household. I love all the different colors in this dish, hence the name rainbow chili, and that it incorporates sweet potatoes without being overpoweringly sweet like some sweet potato chili recipes I've had. I also love that it's so easy to get creative with and add any vegetables you like or have on hand and need to use. I'm not personally great at "throwing a meal together" without some sort of recipe or guidance, but have found I can pretty easily add or take away any ingredients in this one and it still turns out great. Plus it means I can make it a few weeks in a row and adjust it enough that it tastes unique each week.
Ingredients
1lb ground turkey (or beef or chicken, but I like how turkey absorbs the flavor)
1lb sweet potatoes
1 packet taco seasoning
2 10oz cans diced tomatoes and green chilies (such as Ro-tel)
1 15oz can of corn, drained (or 1 cup of frozen corn)
1 15oz can of black beans, drained and rinsed
Optional additions to saute with ground turkey:
1-2 bell peppers of any color
1 red onion
Optional additions to add with tomatoes, corn and black beans:
1 15oz can of chick peas/Garbanzo beans
1 15oz can of fire roasted tomatoes
Directions
In a large skillet, heat 1 tbsp olive oil over medium heat. Add ground turkey and cook until no longer pink, about 8-10 minutes. Drain off extra liquid. Add taco seasoning and mix. Remove from skillet and set aside.
Add remaining 1 tbsp olive oil and sweet potatoes. Cook 10-15 minutes until fork tender. Add in tomatoes and green chilies, corn, black beans, and ground turkey and let simmer 5-7 minutes.
Serve warm! Optional: Serve over warm brown rice
Anyone else *more* than ready to swap winter coats and sweaters for spring dresses and tops? We asked designer Katie Fong Biglin, for her go-to picks for the season. All of them are mom-friendly (read: easy to style) and many of them are perfect for pregnancy and...