These elegant crostini are a surefire winner for all your spring get-togethers, loaded with fresh asparagus, two types of truffle flavor (oil and salt) and fresh lemon. Thank you to the talented moms from
Habitual Hostess
for sharing!
Truffled Asparagus Crostinis
Ingredients:
Asparagus:
1 bunch of medium asparagus
2 Tablespoons truffle oil
1 teaspoon salt
1/2 teaspoon fresh ground pepper
1 Tablespoon lemon juice
1/2 cup shaved Parmesan (we use a vegetable peeler)
1 teaspoon truffle salt
Crostinis:
1 baguette
1 garlic clove, halved
2 Tablespoons olive oil
Directions:
Preheat the broiler in your oven to high. Slice baguette into 1/4 inch pieces. Brush each piece with the olive oil, pop into the oven and broil 3-5 minutes until toasted. Remove from oven and rub each piece of bread with garlic piece.
Slice the asparagus on the diagonal, into 1/4 inch slices. Warm the truffle oil in a skillet over medium low heat. Add asparagus, salt and pepper and sauté for 2 minutes until slightly cooked but crisp. Remove from heat and add in lemon juice, truffle salt and Parmesan cheese.
Spoon asparagus mixture over crostini, inhale immediately 😉
Yummy Toddler Food is one of our absolute favorite resources online for, well, really yummy toddler food. Whether it's mini pumpkin muffins or baked chicken tenders, recipe developer, blogger and mom of two Amy Palanjian takes foods most kids like—like...
This delicious but simple veggie dish can be served as a side or the main dish. What better way to kick off the weekend than with zesty artichoke recipe!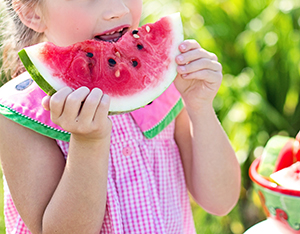 Cooking healthy meals that are delicious and satisfying can be hard work for us moms! Lately, I've been struggling to curate a healthy breakfast, lunch and dinner that include all of the important nutrients and vitamins, only to have my kids come to the table with a stubborn palate.