Any Lab Test Now is a locally owned franchise located in the West End of Richmond, in the same shopping area as Walmart. This business is woman owned by an amazing Richmond native and mom of twin girls. She has been in the healthcare industry for over 14 years, working first in a couple of reputable hospital laboratories and then transitioning to reference laboratories. Her passion of "taking one's health into their own hands" is what drove her to invest in the franchise, Any Lab Test Now. She believes that everyone should not only "know their numbers" but understand what their lab results mean in order to help guide them on the path to good health and wellness, preventing obesity, heart disease and diabetes. You can read more about this amazing entrepreneur at our meet a mom post here!
What does Any Lab Test Now have to offer?
ANY LAB TEST NOW® empowers you to Take Control of Your Health®. Many illnesses and diseases can be identified and prevented by managing your healthcare proactively, and working with your physician when test results are out of the normal range. Knowing the results of your tests can help you make educated decisions that can ultimately improve the quality of your life. Depending on the type of test, test results can also answer social questions, from paternity to drug abuse, and allow tested parties to better evaluate their next decision steps.
Common Tests ordered include the following:
General Health (annual check up panel, glucose, thyroid, hemoglobin, food allergy, cholesterol, etc.)
COVID-19 (rapid test, PCR, antibody, etc.)
Drug & Alcohol (urine test, hair test, etc.)
Genetic/DNA (paternity test, siblingship, etc)
STD (basic panel, comprehensive panel, HIV, etc.)
The results are in an easy‐to‐read format that clearly states if the test is within the normal range, positive or negative; or in matters of family relationship DNA testing, the statistical probability of relationship. If any results are not within normal range, you should then see your doctor to discuss in more depth, or take advantage of their telemedicine health option where you can upload your results and have a doctor discuss results with you. This option is especially beneficial if you don't have a doctor or can't get an appointment with your doctor in a timely manner.
One of the biggest perks: You don't need a doctor's order to get these tests! Which means you can schedule an appointment any time you want to get a test or updated results from a previous test. The store has a physician that oversees the testing performed and test results. (If you do have a doctor's order, they can happily fulfill that too!)
Why choose Any Lab Test Now?
There are several key benefits to Any Lab Test Now:
Accessibility: You can now access health related information when ever you need, without having to see your doctor every time. One example: If you have a diagnosed condition, such as a thyroid condition, it can be really helpful to monitor related statistics through out the year instead of being limited to your annual appointment. Any Lab Test Now can provide insight to how your body is doing on a more regular basis so you can better understand how to manage it.
Discretion: In some cases, you might prefer to keep tests and results private, so being in control of those tests and the results minimizes involvement of any outside parties.
Affordability: Since Any Lab Test Now does not accept insurance, the tests are priced to be affordable for customers paying out of pocket without any surprise bills to your house!
How Can I Get Started?
You don't have to make an appointment, but scheduling one can be beneficial. Doing so means the medical assistant will have all the proper supplies and documents ready and waiting for your visit; thereby, reducing any wait time to get you back to your daily activities quickly. The Glen Allen location is conveniently located right in the center of Short Pump, in the same plaza as Walmart on Broad Street.
As busy parents, time is valuable, which is something Any Lab Test Now knows is very important. Most customers are in and out in 15 minutes or less, unless a specialized test is ordered where specimens must be collected within specific time ranges or in cases where the donor is unable to provide a specimen at the time of collection, such as during a urine drug test.
Most test results will be given to you within an average of 24 – 72 hours. However, depending upon the specific test you order it may take additional time. To see the turnaround time for specific tests, you can use the Test Finder to get more exact timing.
We know parents are busy and often prioritizing health and self care fall to the bottom of the list. Businesses like Any Lab Test Now make it easy to squeeze in an appointment or even drop in when you have a few minutes and give you insight to important health information about yourself or your family. That ease and convenience, plus affordability and discretion, mean that you can be more educated about your health and that of your family!
Use code MOMSLAB1 to receive a 20% discount on any clinical test with a value of $49 or more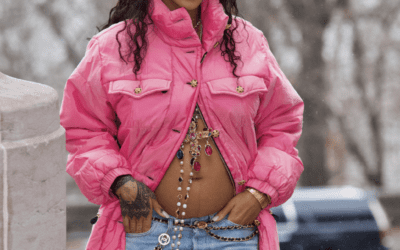 Congrats to Rihanna on the birth of her first child! We love her fashion forward maternity style – from baring her belly to announce her pregnancy to her high fashion looks that had paparazzi covering her pregnancy like it was the Met Gala. When interviewed by...