This Autumn Carrot & Sweet Potato Soup combines classic fall ingredients in a savory and sweet, healthy meal. Former chef and mom of two, Jennifer Segal, is the blogger behind Once Upon A Chef and author of a book, also called Once Upon a Chef, full of family-friendly recipes like this one. "The recipes reflect my life: as a mom, I need easy meals the whole family will enjoy but the chef in me needs to eat too!" says Jennifer. She adds that this soup can easily be made vegetarian-friendly by swapping the chicken stock for vegetable broth. "The soup would pair nicely with these buttermilk biscuits or cornbread muffins and a simple green salad like this one," says Jennifer.
Autumn Carrot & Sweet Potato Soup
Servings: 8
Total Time: 45 Minutes
INGREDIENTS
4 tablespoons unsalted butter
2 medium yellow onions, chopped
1 tablespoon curry powder, plus a bit more for serving
1 pound carrots, peeled and chopped into 1-inch pieces
1-1/2 pounds sweet potatoes (about 2 small), peeled and chopped into 1-inch pieces
8 cups chicken broth, best quality such as Swanson
1-3/4 teaspoons salt
1 tart yet sweet apple (such as Honeycrisp or Fuji), peeled and chopped
2 tablespoons honey
Freshly ground black pepper
INSTRUCTIONS
In a large pot, melt the butter over medium heat. Add the onions and cook, stirring frequently, until soft and translucent, about 10 minutes. Do not brown. Add the curry powder and cook a minute more.
Add the carrots, sweet potatoes, chicken broth and salt and bring to a boil. Cover and simmer over low heat until vegetables are very tender, about 25 minutes. Stir in the apples and honey. Using a stick blender, puree the soup until smooth and creamy. (Alternatively, cool the soup slightly, then puree in a blender in batches. Be sure to leave the hole in the lid open, and cover with a kitchen towel, to allow the steam to escape.) Season to taste with salt, pepper and more honey if necessary. Ladle soup into bowls and sprinkle with more curry powder if desired. (Note: As the soup sits, it will thicken up so you may need to add a bit of water to thin it out.)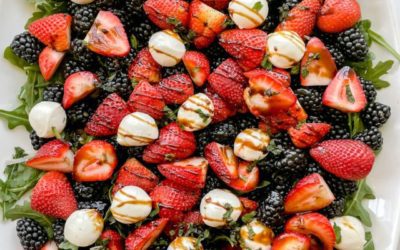 Summer is synonymous with salad, and now salad is synonymous with Kathleen Ashmore, Tik Tok Star and Local Moms Network Food Contributor. Her "Hungry Lady Salad" series is turning even salad skeptics into believers, and this Berry Caprese Salad is her latest...