The Deer Valley Resort in Park City, UT, is known for being one of the premiere places to hit the slopes in the United States. Ski magazine has ranked it in the top 3 for over 20 years. But in addition to being known for its amazing downhill action, it's on-site food—the hearty turkey chili in particular—is known for being just as memorable. Although we couldn't get their chef to share the recipe for that specific dish, they did share another guest favorite, Roasted Butternut Squash and Anasazi Bean Enchiladas. These sweet and savory enchiladas can be made with prechopped butternut squash (available in the fresh section at most grocery stores) to make this a family-friendly weeknight meal you'll want to make through the winter. Can't find Anasazi beans? Pinto beans are a perfect substitute.
DEER VALLEY ROASTED BUTTERNUT SQUASH AND ANASAZI BEAN ENCHILADAS
Start to finish: Two hours
Servings: 8
Ingredients
For the filling:
3 cups butternut squash, roasted and diced
2 cups Anasazi beans, cooked
2 tablespoons olive oil
1 cup shiitake mushrooms, julienned and sautéed in olive oil 1 cup frozen corn, roasted
1⁄4 cup pumpkin seeds, roasted 1 cup cilantro, chopped
Salt and pepper to taste
For assembly:
Eight 8-inch white corn tortillas
1 cup cheddar cheese, grated
1 cup jack cheese, grated
1⁄2 cup cilantro sour cream (see recipe below)
Directions
Heat oven to 350 F
Mix the ingredients for the filling together, careful not to overmix (don't make into a purée)
Lay tortillas flat, top each with approximately 1 cup of the filling mix, a dollop of cilantro sour cream and 1/3 cup of both cheeses
Roll tortillas and place into baking pan. Cover and bake for 20 minutes
Remove from oven and top with the Roasted Tomatillo Cilantro Sauce (see recipe) and remaining cheese
Return to oven to melt cheese over the top of the enchiladas
Use remaining cilantro sour cream as a garnish over the top of the heated enchiladas
CILANTRO SOUR CREAM
Start to finish: 10 minutes
Servings: 8
Ingredients
1⁄2 bunch cilantro, washed and chopped 1 lime, zested and juiced
1 1⁄4 teaspoon garlic, puréed
14 ⁄ ounces sour cream
1 teaspoon salt
1⁄4 teaspoon black pepper
Combine all ingredients in a mixing bowl and blend thoroughly by hand.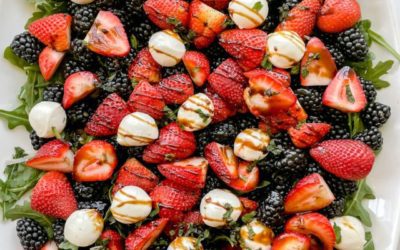 Summer is synonymous with salad, and now salad is synonymous with Kathleen Ashmore, Tik Tok Star and Local Moms Network Food Contributor. Her "Hungry Lady Salad" series is turning even salad skeptics into believers, and this Berry Caprese Salad is her latest...