While we generally try to limit screen time for our children, in the wake of social distancing, some amazing resources are now being offered online that kids and parents alike would enjoy. Have you ever wondered what it would be like to see an Opera at the Met? Or hear the Seattle Symphony play? Thankfully you can view a live stream of both now, for FREE. Enjoy!
Note: Please comment or email us if you hear about more that are not included! I'll be adding to this list regularly as I get more information, so please note this post is an ongoing work in progress, but I didn't want to waste time creating a complete and comprehensive post because a) things are changing daily and b) some of you may already be feeling a little stir crazy and could benefit from this information sooner rather than later. Thank you all!

For Kids:
Virtual field trips, including the San Diego Zoo, Yellowstone National park and Mars: https://docs.google.com/document/u/0/d/1SvIdgTx9djKO6SjyvPDsoGlkgE3iExmi3qh2KRRku_w/mobilebasic
More Virtual Tours (some overlap of the above 2): https://www.usatoday.com/story/tech/2020/03/16/social-distancing-free-virtual-tours/5060244002/
100 Virtual Tours from Around the World
Daily free courses from Scholastic: https://www.koin.com/news/scholastic-releases-free-daily-courses-for-kids-stuck-home-amid-coronavirus-school-closures/
MaryPoppins.com has many great online resources and activity guides for all ages
PBS Kids has free online resources for all age ranges, including new video content they just released
Crowd-sourced ideas from parents and small businesses
Free, live art lessons for older kids on the Make Facebook page
Online Pictionary you can play remotely with friends: https://skribbl.io/
Ages 3+ Educational Games
Movement Ideas:
Science Activities:
Read A-louds:
PreK & Private K Students E-Learning Ideas:

For Adults or Older Children:
Free catalog of Indigenous films online, with the recommended first 6: https://www.cbc.ca/arts/there-s-a-massive-free-catalogue-of-indigenous-films-online-and-we-have-6-picks-to-get-you-started-1.4623884
Free tv show and streaming movies online: https://www.latimes.com/entertainment-arts/tv/story/2020-03-17/coronavirus-tv-streaming-free-trial-deals
Paris Museums Put 100,000 Images online for unrestricted public use: https://kottke.org/20/01/paris-museums-put-100000-images-online-for-unrestricted-public-use
Seattle Symphone offers Free Video Broadcasts and Livestreams: https://seattlesymphony.org/watch-listen/beyondthestage/live-broadcasts
The Met Opera offers 'Nightly Met Opera Streams': https://operawire.com/metropolitan-opera-to-offer-up-nightly-met-opera-streams/
Free Concerts from Coldplay, John Legend, Keith Urban and More: https://www.washingtonpost.com/arts-entertainment/2020/03/17/coldplay-john-legend-keith-urban-coronavirus/
Virginia Museum of History and Culture – History at Home
TikTok Cat Videos: Just what we need right MEOW during social isolation
Virtual Dance Party: https://ew.com/celebrity/ben-platt-virtual-dance-party-coronavirus/
Free entertainment, including PC games, magazines, audiobooks and more: https://www.cnet.com/news/free-entertainment-to-help-you-survive-coronavirus-social-distancing/
Streaming Promotions and Deals: https://www.allconnect.com/blog/streaming-promotions-coronavirus 
COVID-19: If you are experiencing symptoms or want to learn more, please visit the CDC's website for the most up to date information.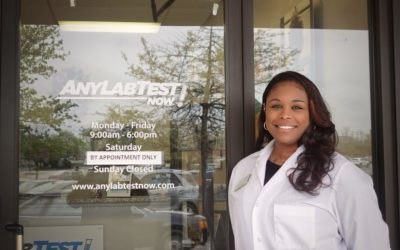 Any Lab Test Now is a locally owned franchise located in the West End of Richmond, in the same shopping area as Walmart. This business is woman owned by an amazing Richmond native and mom of twin girls. She has been in the healthcare industry for over 14 years,...