Easy no-cook recipe that is bursting with spring flavors? Yes, please. Thank you to our contributor, CatwithaK Cooks, for sharing another beautiful, seasonal and nutritious dish!
For more easy and delicious recipes, go to https://thelocalmomsnetwork.com/articles/recipes/.
Shaved Spring Salad with Creamy Tarragon Vinaigrette
Serves 4


Ingredients:
Salad:
10 stalks of asparagus, shaved
4 radishes, shaved on mandolin
4 carrots, (tricolor if available) shaved 2 heads frisée or butter lettuce
Dressing:
1⁄4 cup Olive Oil
1⁄4 cup plain yogurt (coconut, Greek etc) 2 tsp. white wine vinegar
3⁄4 tsp. Dijon mustard
1⁄2 teaspoon Sea Salt
1⁄4 teaspoon black pepper
2 tablespoons fresh tarragon, chopped
1-2 Tbsp water, for thinning dressing
Directions:
For dressing: In a small bowl, combine all ingredients and whisk well until emulsified. Add 1 or 2 Tbsp of water to thin it to desired consistency. Alternatively, add all ingredients to a mason jar, attach the lid firmly, and give it a good shake!
For salad: Wash and prep all ingredients. Using a vegetable peeler, shave the asparagus and carrots lengthwise into strips. Discard the remnants of bettor and asparagus that are too thin to peel. Using a mandolin, or a sharp knife, slice radishes thinly.
Place frisée in a large shallow bowl and top with the remaining vegetable shavings. Top with dressing and toss.
Related articles from The Local Moms Network:
Restaurant Style Caesar Dressing
Broccomole Dip
Greek Salad Hummus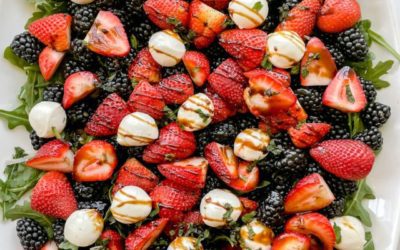 Summer is synonymous with salad, and now salad is synonymous with Kathleen Ashmore, Tik Tok Star and Local Moms Network Food Contributor. Her "Hungry Lady Salad" series is turning even salad skeptics into believers, and this Berry Caprese Salad is her latest...