This story originally appeared on greenwichmoms.com and was contributed by wellness contributor Michelle Calarco. 
As we shift into the final weeks of barbecues and backyard cookouts, we often find ourselves on the hunt for recipes featuring lighter fare, but that won't compromise on flavor. So, we tapped former Today show food stylist and mom Alli Hawes to get some ideas and fresh meal inspiration for the summer weekends ahead!
Basil Pesto with Almonds
If I have a successful basil plant throughout the summer, I will make a big batch (with almonds instead of pine nuts) and freeze it. For a great light and healthy summer dish, serve it with crudités and crackers.
Ingredients:
1 big handful almonds
2 cloves garlic
Juice of 1 lemon
Two glugs of extra virgin olive oil
Salt, big pinch
4 big handfuls washed basil leaves (some stems okay)
Directions:
Blend together in a food processor.
Use half and store half in freezer for later use.
Add grated Parmesan to taste and add water for preferred texture.
Simple Pesto Meatballs
If you're looking for something slightly less light, take your pesto and transform it into simple pesto meatballs.
Ingredients:
1lb ground turkey
1/4 cup of pesto
Directions:
Mix ground turkey with 1/4 cup of pesto approximately.
Cook with preferred method: brown until cooked through in non stick sauté pan with a touch of neutral oil. Or bake in 400F oven on a foil lined sheet tray for approximately 20 min or until fully cooked.
Serve with salad.
Fresh Tomato Salad
Ingredients:
Baby tomatoes halved or large tomatoes sliced or both
1 English or Kerby cucumber
1 Diced Bell Pepper
Fresh Basil or Parsley
Olive Oil
Everything Bagel Spice Mix
Directions:
Arrange tomato pieces on a platter.
Add sliced English or Kerby cucumber, diced bell peppers and fresh basil or parsley.
Drizzle with a touch of olive oil – or neutral oil. Sprinkle everything bagel spice mix on top and serve.
About Michelle Calarco: Michelle is a communications expert and a wellness enthusiast. After honing her storytelling craft in media and television, Michelle went on to elevate the profiles of premier brands across the hospitality, healthy living, and better-for-you food spaces. She has always been passionate about living and eating well and became even more immersed in health when she became a mom. On weekends you can find her squeezing in a barre class (during Paw Patrol) and baking healthyish desserts with her little one. Michelle has a consulting business and resides in Greenwich with her husband and 2-year-old son.
Have an idea for something you want to see in the column? Write to Michelle at [email protected] or follow her @michelle.calarco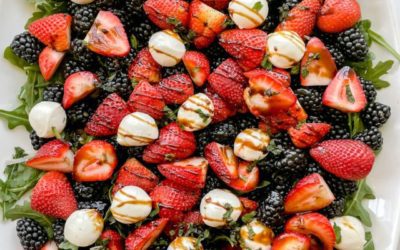 Summer is synonymous with salad, and now salad is synonymous with Kathleen Ashmore, Tik Tok Star and Local Moms Network Food Contributor. Her "Hungry Lady Salad" series is turning even salad skeptics into believers, and this Berry Caprese Salad is her latest...