Winter is chili season in our household, so I've been making a pot just about every week, which includes trying new recipes, making my tried and true favorites, and getting creative with both. I have been using ground turkey for all my chili recipes, even the ones that suggest using beef, mostly because I'm trying to decrease the amount of red meat my family eats. However, I've found that just about any type of ground meat works, depending what your families dietary needs may be. I often double the recipe too, so I haven plenty of leftovers for the week as well as some portions to freeze. This recipe has been the family favorite this season, and I have already made it no less than 7 times since fall finally arrived here in Richmond, VA.
I have included the basic recipe, along with some additional serving suggestions and variations to try. Let us know what you think!
Ingredients:
1lb ground turkey (or beef, chicken, pork, etc.)
1 onion, diced
1 green pepper, diced
2 cloves of garlic, minced
28-30oz crushed tomatoes
1 15oz can of kidney beans, drained and rinsed
1 15oz can of black beans, drained and rinsed
1 15oz can of garbanzo beans, drained and rinsed
1 8oz can of diced tomatoes and chilis (like Ro-tel)
3 tbsp chili powder
1 tsp cumin
1 tsp salt
1 tsp pepper
Directions:
In a large pot, over medium-high heat, add turkey, onion, and green pepper. Cook until turkey is no longer pink and onion and green pepper are soft and slightly browned.
Add garlic and saute until fragrant, usually 1-2 minutes
Add tomatoes, Ro-tel, beans, and spices. Bring to a boil.
Reduce heat to low simmer and let simmer for about 1 hour, stirring occassionally
Options and Variations:
Cook in Crockpot: Add to crockpot after step 2 and cook on high 3-4 hours, or on low for 5-6 hours
More Fiber: Add an extra can of beans
Bean Variety: Add different types of beans
More Veggies: Add any other veggies you have laying around and just saute with peppers and onions
Add Color: Add a cup of frozen corn when adding tomatoes and beans
Add Spice: Add a fresh jalapeno or two and saute with peppers and onions. De-vein and de-seed to add flavor without as much spice.
Serving Suggestions:
Serve over white or brown rice
Serve with tortillas to make chili tacos
With sour cream, cheese, fresh jalapenos, pico de gallo (chopped tomatoes, onions and cilantro), or fresh cilantro
Serve on french fries with cheese (one of the kids came up with this one!)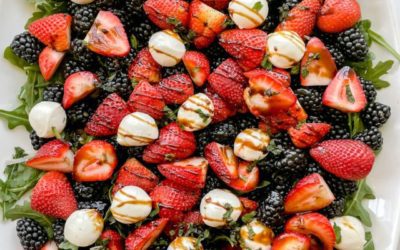 Summer is synonymous with salad, and now salad is synonymous with Kathleen Ashmore, Tik Tok Star and Local Moms Network Food Contributor. Her "Hungry Lady Salad" series is turning even salad skeptics into believers, and this Berry Caprese Salad is her latest...