My family loves football, and traditionally we get together as often as we can to hang out, watch football, and, of course, EAT. We all love chili, so previously we'd been making multiple variations of chili each week, but we decided it was time for something new! So this year, so we've been branching out and trying some new things since football season kicked off (pun intended). Our hope was to find a delicious recipe that was quick, easy, and kid friendly, AND offers opportunities to customize as much or as little as you wanted, depending on how motivated, creative, or hungry you were feeling that day.
Thankfully, we found a winner! Introducing quick and easy Jambalaya (recipe below). We tried a couple variations of Jambalaya, especially since the first one went so well, but this one was our favorite each time. Plus its super easy to bring anywhere, so it's perfect for tailgating too!
Ingredients:
1 onion
38 ounces andouille sausage (I used Zatarain's new one – Andouille smoked sausage)
2 1/2 cups water
2 (8 ounce) packages jambalaya mix (I used Zatarain's)
1 (10 ounce) can of diced tomatoes with green chile peppers (I used Ro-tel)
1 tablespoon olive oil
Instructions:
Chop onion and slice sausage.
Heat oil in a large sauce pan over medium-high heat. Add sausage and onion, stirring until browned, about 7-10 minutes.
Pour water, jambalaya mix, and diced tomatoes with green chile peppers into the pot. Bring the mixture to a boil, reduce heat to low, cover the pot, and simmer until the water is mostly absorbed and the rice is tender, about 25 minutes.
Options for customizing:
Instead of water, use chicken or beef broth.
Swap out the sausage for either a different Zatarain's sausage or a completely different sausage
Add chicken, beef, or pork sliced thinly and sauteed with the onions.
Add more vegetables when sauteing sausage and onion, such as green peppers, spinach or zucchini.
Add a can of beans for extra protein
Top with any or all of these:

pico de gallo
salsa
sour cream
guacamole

Make jambalaya tacos with soft, warm, tortillas.
I love that it takes less than 10 minutes to prepare the ingredients, it can all be done in one pot, and then you just let it simmer for less than half an hour. I've also experimented with adding more vegetables, usually anything I knew I needed to use up soon, and to encourage the kids to eat more veggies, and it was all amazing.
Nutrition Facts
Per Serving (recipe makes 6): 861 calories; 53.3 g fat; 65.4 g carbohydrates; 27.8 g protein; 103 mg cholesterol; 2802 mg sodium
This recipe originally appeared on AllRecipes!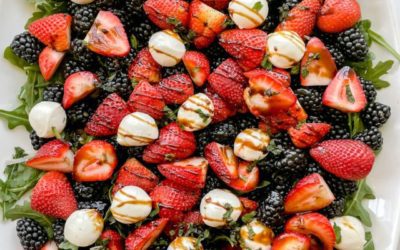 Summer is synonymous with salad, and now salad is synonymous with Kathleen Ashmore, Tik Tok Star and Local Moms Network Food Contributor. Her "Hungry Lady Salad" series is turning even salad skeptics into believers, and this Berry Caprese Salad is her latest...