Trying to change up your Taco Tuesday routine? Try these salmon tacos from Elizabeth Lim, the mom behind The Beach Cities Moms. Before having her 15-month-old daughter Sailor, Elizabeth ran a meal delivery business throughout Los Angeles. "Salmon has become a weekly meal in my house due to the affinity that my daughter has developed for it. I am on board with that since salmon is low in mercury and high in omega-3s that are so valuable for brain development. This glaze is so simple and gives the salmon a major boost of flavor. The avocado aioli adds that special something that will leave you wanting these every Taco Tuesday," says Elizabeth.
HONEY-CHIPOTLE SALMON TACOS w/ AVOCADO AIOLI
MAKES 4 TACOS
Honey-Chipotle Glaze:
2 Tablespoons olive oil or avocado oil
1 Tablespoon honey
½ teaspoon garlic powder
¼ teaspoon chipotle powder
¼ teaspoon chili powder
¼ teaspoon ground cumin
sea salt and freshly ground black pepper to taste
Avocado Aioli:
¼ cup mayo
2 Tablespoons olive oil or avocado oil
½ avocado, pitted
2 Tablespoons lime juice
¼ teaspoon sea salt
1 medium garlic clove
1 jalapeno, seeded
Other ingredients:
12 ounces salmon (2 six-ounce portions works well)
½ cup cilantro leaves
4 flour or corn tortillas
2 cups shredded red or green cabbage
Directions:
Preheat the oven to 400 degrees and line a small baking sheet with parchment paper.
In a small bowl, whisk together the ingredients for the honey-chipotle glaze. Pour half of the glaze into a separate small bowl (just eyeball it) and set aside.
Arrange the salmon on the prepared baking sheet skin side down and use your hands to rub the remaining glaze all over the top and sides until it is well coated. Sprinkle salmon with salt and pepper.
Bake for 10-12 minutes, until cooked through. Remove from the oven and pour the remaining glaze over the cooked salmon.
To make the avocado aioli, add all of the ingredients to a blender or food processor and blend until smooth.
To assemble your tacos, warm your tortillas in a skillet or carefully over an open flame on your stove. Divide the salmon between the 4 tortillas.  Top with shredded cabbage and drizzle with aioli.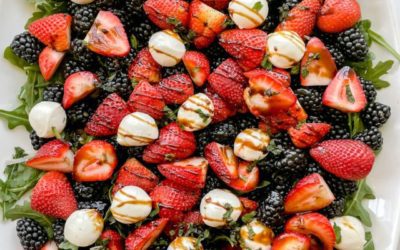 Summer is synonymous with salad, and now salad is synonymous with Kathleen Ashmore, Tik Tok Star and Local Moms Network Food Contributor. Her "Hungry Lady Salad" series is turning even salad skeptics into believers, and this Berry Caprese Salad is her latest...