This week's Meet a Mom is Richmond based mom and local business owner Marni Rosen. Originally from Hampton, VA, she now lives in Short Pump with her son. In 2020, she launched her local business, Brighten the Load, which has allowed her to put her love of interior design and decorating into an opportunity to help others. Read more about this local mom-preneur below and click through the images to learn more about how Brighten the Load can help bring beauty and creativity to your life in 2021:
Where are you originally from?
I am originally from Hampton, VA
Where'd you go to school & what's your current profession?
I went to JMU and graduated with a BS degree in Political Science and Criminal Justice.  I also went to the University of Richmond for my Interior Decorating Certification.
Where do you live today and how long have you lived in this area?
I live in Short Pump and have lived in this area since 2010.
How many children do you have & what are their ages?
I have one son Noah who is 5 and in virtual Kindergarten at Kaechele.
What are your favorite things about Richmond?
My favorite things about Richmond are the food, the arts, the historic sites, so many places to explore outdoors.
What's one thing people would be surprised to know about you?
I think people would be surprised that I was 42 when I had my son.
Tell us about your career.
I worked for Enterprise Rent-A-Car from 1995 until 2012.  I started in the rental offices and then moved into the Risk Management department.  I was a Risk Manager and moved from state to state.  I lived in Virginia, Maryland, Pennsylvania and New York in my career.
Tell us more about your small business – how did you get started and what are you doing now?
I started my small business Brighten The Load in May 2020.  I have always had a passion for interior design and a creative streak.  With my son starting Kindergarten, I thought this would be a great way to combine my passion for design and my love of giving back. Brighten the Load offers interior design for residential and commercial spaces both virtually and in-person.
I also create personalized gift baskets for any occasion and budget.   In 2021, I am offering bridal and baby shower favors and decor, wedding gifts, wedding guest welcome gifts, party decor supplies and favors, etc.
What's the best thing about your job?
The best thing about my job is the flexibility it provides my family as well as making people happy with the finished product.
What's your proudest accomplishment?
My proudest accomplishment is having my son.  We struggled with fertility issues for 2.5 years but never gave up.  We truly are blessed beyond belief that he is ours!
What was your biggest failure?
My biggest failure may have been not always making the right move decisions with Enterprise.  I moved to move up with the company and am not sure my last move to Upstate New York was the best career decision.
What's the one thing you're most passionate about?
I am most passionate in life about my big family and just getting out and enjoying life.
How do you juggle work with mommyhood?
Mommyhood is harder than I ever thought it would be.  Having worked in Corporate America for 17 years in a high-stress job, I thought I had it tough.  But being a mom is the hardest job ever.  I find small windows of time to work on my side business while still making sure I am giving Noah my all.
Can you give us one pearl of wisdom, the one thing you wish more people knew?
If I could give one pearl of wisdom, I wish more people would just not judge each other as much.  You never know what someone else may be going through or facing.
How do you rely on the women of Richmond?
I am blessed to have so many great women friends in Richmond.  I count on them for Mommy support, networking, advice and PLAYDATES 🙂
What's your advice to moms in the midst of the COVID-19 crisis?
My best advice which I don't always take myself in the midst of the COVID-19 crisis would be to not beat yourself up.  We didn't get any warning or manual for how to handle this for ourselves nor for our kids.  Take it day by day and just do your best!
How has your job changed during COVID-19?
I like to always tell Noah my job is to take care of him and make sure he's living a great life!  During COVID-19, this has been more challenging but we are finding ways to get outside and just go.
Last question – is there anyone special you'd like to thank for helping you through parenthood?
I lost my Mom when I was 26 and it hit hard when I had Noah.  My mom tribe has stepped up and really been there for me through this parenthood thing we do together!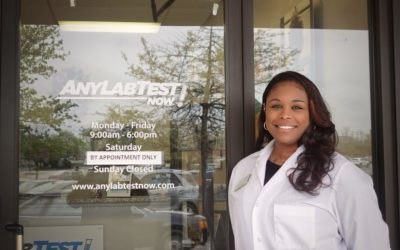 Any Lab Test Now is a locally owned franchise located in the West End of Richmond, in the same shopping area as Walmart. This business is woman owned by an amazing Richmond native and mom of twin girls. She has been in the healthcare industry for over 14 years,...