This week's Meet a Mom is Brittany Hennessy, author of Influencer: Building Your Personal Brand in the Age of Social Media.We met Brittany when she was the keynote speaker at a mompreneur event held by a previous Meet a Mom, Pamela Pekerman, and wanted to share some of her inspiring insight as a social media guru and working mom. Here's a bit more about this Westchester, NY-based mom of two!
Would you please tell us a bit about your background and current role?

I'm a pioneer in the influencer marketing industry. I was the first person to lead the divisions at Horizon Media and more recently Hearst Magazines Digital Media. After authoring INFLUENCER: Building Your Personal Brand In The Age Of Social Media, I co-founded Carbon August, an influencer development brand. I'm also the co-founder of MEADOW: an app helping parents coordinate activities with other families.
When was your aha moment that being an influencer was going to be an actual industry?

I started my now-defunct blog ChiChi212.com in 2007. In 2011 I went to Germany as the North American ambassador for Nivea's 100th anniversary. I just had to tweet about it. That's when I knew this was going to be big business.
Why is social media so important as an outlet for moms and also as a brand-building tool?

On a personal level it helps moms find a community of people who understand the juggle. And with the rise of Facebook groups, posting anonymously can help moms find solutions to problems they're not comfortable sharing in real life. For mompreneurs the internet is life. Moms spend so much time shopping online and word of mouth is everything. The best way to capitalize on those things is by having a strong social media presence.
What is the single best piece of advice you give to new clients?

Identify your target consumer and speak directly to her. Others may listen to your message and they might even purchase, but in order to be successful your ideal consumer needs to know you understand her and speak her language.
What is the biggest mistake you see made by brands?

Having content that is SO salesly and doesn't offer me any value. I love brands that show you a hack along with their product. Even if I'm using a competitor, I'm still thinking about them and mind share equals market share.
What are some of the trends in the influencer industry you see happening?

In 2020 we're definitely going to see an increase in influencers creating their own brands and competing with large companies. Over the next decade I think everyone will have a media brand associated with their product. You can already see it happening with brands like Glossier and Casper and I think that trend will continue.
What is the most important platform to be on?

It really depends on your niche but I would say Pinterest because you can link to anything else you've created.
How do you deal with any emotional exhaustion associated with social or falling into the comparison trap?

I try to remind myself that I'm really only competing with myself and that helps me stay in my lane.
Can you tell us a bit about your life as a mom?

I have a four-year-old boy named Alexander August who is just so sweet and has a LOT of energy. I am also the mom of an angel baby Avery August who was born still at 32 weeks in 2018. I almost died during that pregnancy and it really so much into perspective. I live in Irvington, NY with my husband Alexander who is the most amazing human alive. We absolutely love Westchester but mostly attribute that to still being close to the city!
Do you have any specific mom hacks for the juggle of work and family?

Forget about achieving work/life balance. Just ebb and flow with it. I think my biggest "hack" would be to make sure you LOVE your job. Every minute spent commuting and in your office is time you're not with your family so it needs to be worth it.
Do you deal with mom guilt?

Now that I work from home I have less mom guilt. While there are still moments when I can't be 100% present, my kid is super happy and has an amazing life so I must be doing something right!
If your child wanted to be an entrepreneur and/or influencer, what would you say?

Go for it! It's a great feeling to be in control of your own destiny!
Who are some of your favorite moms to follow on  Insta and why, for each?

@scoutthecity – Sai is so fashionable and continues to travel with two kids in tow.
@nycfitfam – Jamie finds time to work out since it's important to her physical and mental health.
@livingnotes – Olya has seven kids. I don't think I need to say anything else.
@ohjoy – I love seeing how Joy balances parenthood and being a business owner.
We love to support local businesses. Can you please share your fave spots in your area to:
Go out to eat with your husband: Ruby's Oyster Bar & Bistro in Rye
Go with kids: Grand Prix in Mount Kisco is pretty great. I also love City Limits in White Plains
Have a girls night out: What is that? 🙂
Shop for yourself: Aritzia (The Westchester) and Uniqlo (Ridge Hill)
Shop for kids: Egg New York (Greenwich)
Get your nails/hair done: Irvington Nails (even though I still go all the way to the city for my #1 spot: Rehoboth Spa Lounge on 14th Street)
Workout: JCC but I wish we had an Equinox close by
Spend time as a family: The Metropolitan Museum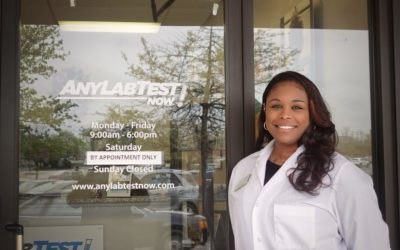 Any Lab Test Now is a locally owned franchise located in the West End of Richmond, in the same shopping area as Walmart. This business is woman owned by an amazing Richmond native and mom of twin girls. She has been in the healthcare industry for over 14 years,...