This week's Meet a Mom is Holly Daniels Christensen, the Founder & CEO of Dune Jewelry, which is a unique, "Experiential Jewelry" brand. "We use sand and natural elements from thousands of locations around the world to create jewelry that holds your personal experiences…tangible reminders of your favorite moments," explains Holly. Early on, Holly was crafting custom pieces primarily with sterling silver and beach sand. "As time went by our customers started sending a lot of different elements that were special to them such as pressed flowers, ashes, crushed granite from the Rocky Mountains, sand from golf courses and more. That's what prompted me to create the term Experiential Jewelry—we capture all of your life's greatest experiences," says Holly. We spoke to the jewelry designer about growing her business, her favorite pieces, and her life as a working mom. Plus, Valentine's specials (see below).
How did Dune start—I read it was literally at your kitchen table?

I was working with my childhood best friend helping to grow her business of crafting ornaments out of beach sand on Cape Cod. I loved the reaction of customers once they realized that they could customize their ornament with their own special sand and thought about how we could take it to another level. We ended up taking jewelry courses at Metalwerx in Waltham, Massachusetts and that was the catalyst for Dune. Everything else since then has been self-taught.
Do you have a favorite style?

My favorite designs change all the time! I love our classic Island necklace and Endless Summer bar earrings, but right now I'm obsessed with our 7-sand Cuff Bracelet. I wear mine with abalone shell, mother-of-pearl, sand from Positano, Italy, St. Thomas, Costa Rica, Bermuda and crushed bits of the Berlin Wall. It tells a story which is the most important thing.
So cool. Can you please tell us about the "Sandbank"?

Aaaaah, I love our Sandbank! It started out with me simply taking road trips and collecting a cup of sand from local beaches to use in my jewelry, but once we launched Dune as a "real" business online, it took on a life of its own.  Now customers send us sand and elements from all over the world on a daily basis. At this point I've touched sand and elements from all 7 continents including Antarctica! We have over 4,000 unique locales in our Sandbank™ ranging from Fiji to Cape Cod and everywhere in between.
What are some of your bestsellers?

Our classic Wave Necklace is hands-down our best-seller year after year but recently rings have been trending, so we've seen a lot of Boho Rings and 7-Sand Rope Rings being worn.  I also absolutely love the small and large Veronica Hoop Earrings from our Camille Kostek Collection which is a collaboration with Sports Illustrated Swimsuit Cover Model Camille Kostek. Customers like to collect Dune as they travel and make new memories, so there are always tons of new designs being developed and introduced.
Do you have any stories that stand out for you, from customers over the years?

There are so many stories that are shared with us each and every week and they range from super happy to really sad, and everything in between.  I love hearing about weddings, first kisses, girl's weekends, childhood beach homes and all the fun, but it's even more gratifying to hear stories like the following:
Hello there, I just wanted to take a minute to let you know how grateful I am for the beautiful ring that arrived just in time for my birthday. My mom passed away in 2017 and I miss her every day. A lot. When I found out that you would incorporate her ashes into your beautiful jewelry, it was a no brainer. I knew for a long time that I wanted the Bayview ring. I added Lapis Lazuli to signify mom and my favorite trip to Egypt. It turned out so beautiful! I will always miss her but she feels close to me every day now and I know she is looking down on me, loving the way I remember her. Thanks for creating this special piece of jewelry and for the kindness extended to me by your staff.  
Can you tell us a bit about your family?

I have two daughters, Lexa (8) and Lyla (6).  Lex is very subdued, calm, cool and collected while Lyla is a crazy-pants full of energy who's always trying to make everyone laugh by exhibiting totally inappropriate behavior such as potty words, "tooting" loudly and running around the house in a general tizzy.  Same Mother, same Father, two TOTALLY different children.  We live in Walpole, MA with my husband Eric who's super hands-on and helps out a lot with the girls.
What's your mom uniform?

This is a two-part question because my Mom uniform really consists of basic athleisure wear from Old Navy. I've tried a bunch of different leggings and yoga pants over the years and I have found that the quality of Old Navy's leggings rivals all of the more expensive brands…and what girl doesn't love a bargain?  For work/Mom life, you'll find me in high-waisted jeans from Express or Hudson as well as white T-shirts from Splendid and Zara, topped off with one of my many DKNY black blazers and a pair of Donald Pliner boots. I love basic clothing that I can wear a lot of Dune Jewelry with and not look too blingy.
How do you handle the work/family toggle or balance?

I never feel perfectly balanced but I do feel like I make progress as time goes on.  When I'm home I do my best to put away my phone and computer and be present with my family.  This morning I woke up my girls by playing Lizzo and making them join me in a dance party.  I also make sure I'm home for dinner every Friday night and we have a "sushi picnic" on the living room floor.  It's something we all look forward to throughout the week.
If you could tell yourself from 10 years ago one thing, what would it be?

The best is yet to come!  Never, ever underestimate the power of YOU.
Love it! What's next for you and Dune?

We're going to get out on the road this year and do a lot more consumer-facing events which is really exciting because I love to talk to our customers in person. Staying true to your art is crucial, but if you want to create a business that will thrive, it's just as important to listen to your customers and allow them to inspire you.  We also have new designs and collaborations coming up and we're dipping our toes into accessories like picture frames, wine stoppers and ornaments which historically have been greatly successful.   Be sure to follow us closely on social media where we share lots of news and announcements!
Any promotions you want to share for Valentine's Day?

All of our designs are custom made and personalized so we don't have a lot of promotions throughout the year, but I'd love to offer a code for anyone reading this, so let's use MeetTheMom15 for 15% off any Valentine's or Galentine's Day orders online at www.dunejewelry.com this month.  We love Valentine's Day, but we Galentine's can be even MORE fun!
And what's your Valentine's Day order deadline?

Every piece is handcrafted and personalized so our cutoff date is February 6th!
For more information on Dune Jewelry, please visit: www.dunejewelry.com
Follow on Instagram: DuneJewelry
follow Holly's personal account – sandy_hands
Like Dune Jewelry on Facebook:   www.facebook.com/dunejewelry​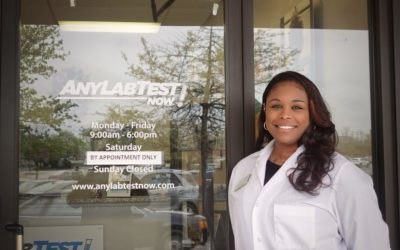 Any Lab Test Now is a locally owned franchise located in the West End of Richmond, in the same shopping area as Walmart. This business is woman owned by an amazing Richmond native and mom of twin girls. She has been in the healthcare industry for over 14 years,...