Recently I had the pleasure of "meeting" local author, Melissa Face! She's both a writer and teacher, who is not only teaching virtually this year, but has two children learning virtually under the same roof. Read below to learn more about this talented local mom, her book, and how she's tackling some of the challenges of today's virtual world:
Where are you originally from?
Wakefield, VA
Where'd you go to school & what's your current profession?
I attended Coastal Carolina University in Conway, SC, and I am a proud Chanticleer! I currently teach world literature at the Appomattox Regional Governor's School for the Arts and Technology in Petersburg, VA. This is my 15th year in education and my first year teaching virtually.
Where do you live today and how long have you lived in this area?
I live in Prince George, and we have been here four years.
How many children do you have & what are their ages?
I have two kids, and they are 9 and 6 – Evan and Delaney
What are your favorite things about Richmond?
The people we've met, views of the river in certain spots, the abundance of art and culture, and the restaurants! So many great places to eat!
What's one thing people would be surprised to know about you?
That even though I'm a teacher now, I wasn't the model student back in high school. For example, I once flunked a reading quiz in English 11 just to make my mom mad. I also walked home from school one day without permission because I didn't want to be there anymore. I was a bit rebellious. Are my students going to see this?? Lol!
Tell us about your career.
I have the privilege of reading amazing literature and discussing it with teenagers who are pursuing an artistic pathway. It's truly an incredible job, and I love nearly every aspect of it. I love helping them find and develop their voices and improve their writing; I also enjoy teaching grammar. I knew teaching was the right career for me on day 1 in the classroom. Not only do I love the subject matter and working with young people, but it was the first job where I wasn't counting down the hours in my workday.
Your new book was just released! Tell us about it and what lead you to write this book?
My book, I Love You More Than Coffee, is an essay collection for parents that spans a period of 8 years, from when I became pregnant with my first child, to when I sent my second child to school for the first time. I originally wrote the essays as a way to cope with the early years of motherhood that often felt isolating. Even when I was feeling alone, I maintained a high level of optimism, so the essays are real but hopeful. I am always trying to find something good in my current situation, and the more I focus on that, the easier it is. This idea comes through in my essay collection.
Why did you decide to become a writer?
I don't remember not being a writer. But I do remember the first time I was paid for my work. I won a $50 savings bond (remember those??) for a poetry contest in high school. I wrote a poem entitled "Empty". It was published in the Virginian Pilot, and I earned $50. I was hooked, and I've been writing ever since.
What's the best thing about your job?
My students and the relationships we form over the years
What's your proudest accomplishment?
My two children and my book
What was your biggest failure?
My biggest failure has nothing to do with my career. I failed when I was younger and was dishonest with my parents. Disappointing them was a tremendous failure.
What's the one thing you're most passionate about?
Raising loving and accepting children
How do you juggle work with mommyhood?
I'm not sure I do it well, but I prioritize whatever needs my attention most at that moment and tackle it. It can be a challenge because my work requires a lot of reading and grading.
Can you give us one pearl of wisdom, the one thing you wish more people knew?
That each day we have the power to make someone's day better. We can be the reason someone smiles, goes to work, feels good about themselves, etc. And when you really think about that, it impacts all of your daily decisions and public interactions. Why wouldn't you want to improve someone's day?
How do you rely on the women of Richmond?
Richmond is filled with strong, motivated women who do a great job of juggling the numerous roles in their lives. I look to them for inspiration and for networking opportunities.
What's your advice to moms in the midst of the COVID-19 crisis?
I realize as I write this that I am in a fortunate position. I have a job and my children are healthy. I think that it is natural to look at what we are missing out on because of COVID, including what our kids might be missing in terms of their grade level curriculum. Focusing on what is going well in your current situation, though, is best practice. Sometimes that means writing those things down and looking at them. It gets a little easier to add to that list each day.
How has your job changed during COVID-19?
I am teaching virtually this year from the Learning Management System called Schoology. It has definitely been an adjustment, but I am so grateful to be able to connect with my students each day. Plus, my two children are learning virtually across the house from me.
Last question – is there anyone special you'd like to thank for helping you through parenthood?
My husband because he is a true partner. There is no "his job" or "my job" when it comes to household or kid duties. He can cook, clean, and style our daughter's hair – sometimes better than I can!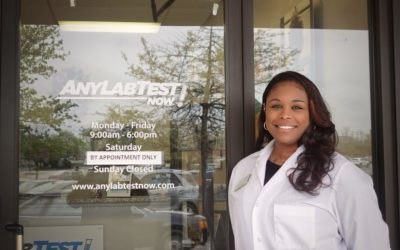 Any Lab Test Now is a locally owned franchise located in the West End of Richmond, in the same shopping area as Walmart. This business is woman owned by an amazing Richmond native and mom of twin girls. She has been in the healthcare industry for over 14 years,...