This versatile brunch recipe is elegant enough to serve guests, but easy enough to make on a Sunday morning with the kids, to pair with coffee all week long. "When I lived in France my host family taught me how to make this insanely delicious and easy Olive Oil Yogurt Cake. You can use standard 6 oz yogurt cups so you don't even have to dirty a measuring cup!" shares Rachel Wyman, owner and head baker at Montclair Bread in Montclair, New Jersey. She recommends using regular (not Greek) yogurt and prefers vanilla, but says you can play around with different flavors for variation.
Olive Oil Yogurt Cake
**When the recipe calls for a "pot," fill the empty yogurt container with the ingredient.
Ingredients:
Mix these wet ingredients together with a wooden spoon in large bowl:
2 pots of yogurt
3 eggs
1 pot olive oil
3 pots sugar
In a small bowl mix together these dry ingredients:
4.5 pots of flour
1 tea baking powder
Directions:
1.Add dry ingredients to wet ones.
2. Pour mixture into a standard size loaf pa.n ***Make sure you spray the pan with oil so the batter doesn't stick!***
3. Bake for 30 minutes at 350 or until you can insert a toothpick and pull it out clean.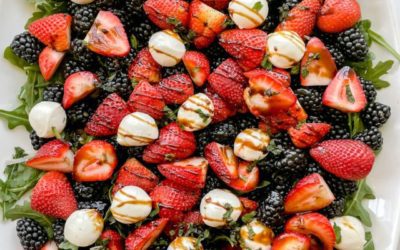 Summer is synonymous with salad, and now salad is synonymous with Kathleen Ashmore, Tik Tok Star and Local Moms Network Food Contributor. Her "Hungry Lady Salad" series is turning even salad skeptics into believers, and this Berry Caprese Salad is her latest...