Have you heard the term "pandemic puppy?" Well, it's probably the cutest phenomenon to come out of this Covid-19 crisis. Across the country, families in quarantine are jumping into the puppy pool, taking their extra time as a family to  bring home a furry friend. It's a perfect way to keep kids engaged, encouraging responsibility and helping the whole family stay active.
Kristen Forlini, a Connecticut mom of three, (two sons, 7 and 2, and a daughter, 5), finally convinced her dog-averse husband to get a German Shephard puppy when schools were closing due to coronavirus. "I thought it will be entertaining for the kids and help during this difficult time," says Kristen. As for her husband? "He didn't agree, but he also didn't disagree," she jokes. Soon after, they had not one but two puppies. When the family couldn't decide which one to get, she told her husband to pick. "He came walking out with both. I really thought he lost his mind because he never wanted one, and now we were driving away with two, but I just went with it!"
Shandee Chernow, a single mom of two (two boys, 10 and 7) based in Arizona, adopted a puppy (also a German Shephard) to add to their current dog crew of two (a bull mastiff and shitzu poodle mix). "Our bull mastiff went into heart failure about 16 months ago. She's currently beating the odds, is well past her prognosis and is doing fabulously well. When it became apparent that she intends to stick around for as long as possible, we wanted to give a new addition the opportunity to learn from her," says Sandee, who is the President & CEO of CertiStar, a food allergy advocacy group. "The best part is that we're home all the time, so I can give her the attention and training she needs," she adds.
As for Kristen and her family, six weeks in, they've hired a dog trainer (for Greenwich locals, Jessica del Guercio) who is helping them adjust to a "new normal", which includes puppy-proofing,  inevitable chewing and other puppy behaviors. But it's been a great choice for their household, says Kristen: "Watching the kids smile from ear to ear as the dogs chase them around the house and yard has definitely helped put a smile on our faces. It has been a huge distraction and our focus is on them, and the kids of course, rather than what's really going on in the world right now."
Thinking of adopting? Many shelters are still doing adoptions but through appointment only. Here are a few shelters here in the Richmond area, including some cat rescues because adopting a cat is fun too!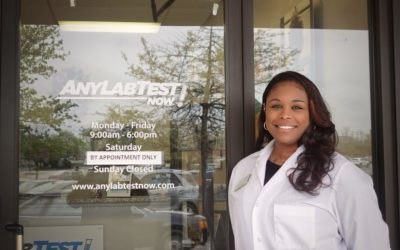 Any Lab Test Now is a locally owned franchise located in the West End of Richmond, in the same shopping area as Walmart. This business is woman owned by an amazing Richmond native and mom of twin girls. She has been in the healthcare industry for over 14 years,...