With each passing day, more and more businesses, restaurants, stores and gyms are closing down, some without even a re-open date yet. Most Richmond area schools have closed until at least March 30th (see our screen free activities post here), but as more school systems in the country extend their closures, there's a good chance schools will also stay closed longer. But even so, many of us are home with our kids for the next 2 weeks at a minimum and if you're like me, after day 2 of being home, you might be going a little stir crazy, so I thought I'd put together a list of gyms, local and nationwide, that are doing FREE Virtual Classes.
Note: Please comment or email us if you hear about more that are not included! I'll be adding to this list regularly as more gyms offer the option, so please note this post is an ongoing work in progress, but I didn't want to waste time creating a complete and comprehensive post because a) things are changing daily and b) some of you may already be feeling a little stir crazy and could benefit from this information sooner rather than later. Thank you all!
From YMCA, 95 FREE workouts across 8 categories: https://watch.lesmillsondemand.com/at-home-workouts
Down Dog Yoga App, Yoga for Beginners, Barre, HIIT and 7 Minute Workout – All Apps are Free until April 1st (I use the Yoga App and love it!)
Obe Fitness, an immersive digital fitness experience offers over 100 live classes per week, use our promo code: TINYBEANS for a free month on Obe! (Thank you TinyBeans!)
Ekhart Yoga is offering free online yoga & meditation classes
[solidcore] Videos you can do at Home
Series of workouts:
WORKOUT ONE – 21 DAY FIX REAL TIME
30 minutes
Trainer: Autumn Calabrese
Easy to follow moves and perfect for any fitness level! There is a modifier provided if you feel like you need to take down the intensity.
CLICK HERE: https://vimeo.com/339590784
WORKOUT TWO – 21 DAY FIX EXTREME REAL TIME
30 minutes
Trainer: Autumn Calabrese
This is the next in the Fix series! The moves you learned in 21 Day Fix will progress and get a little bit harder. But there is still a modifier to help you through, if you need it!
CLICK HERE: https://vimeo.com/346948380
WORKOUT THREE – BARRE BLEND
30 minutes 
Trainer: Elise Joan
A low impact but intense combination of Barre, Pilates and Yoga. You are walked through move by move with a modifier to take down the intensity if needed. Elise will motivate and inspire you to be your best self! This brand new program is quickly sweeping the nation and becoming a favorite! It's brand new and quickly becoming an absolute favorite.
CLICK HERE: https://vimeo.com/375458578
WORKOUT FOUR – THE PREP
35 minutes 
Trainer: Amoila Ceasar 
The Prep is the "prequel" to 6 Weeks of the Work. This is a hardcore workout, but it's completely do-able! There is no modifier provided, but reach out and I'll create some modified moves for you!
CLICK HERE: https://vimeo.com/379849674
WORKOUT FIVE – THE WORK
40 Minutes
Trainer: Amoila Cesar
This is a sampling of the intense training program, 6 Weeks of the Work, created by superstar trainer Amoila Ceasar. He has trained NFL, NBA, and MLB players for many years and is now bringing his strength training to you!
CLICK HERE: https://vimeo.com/361880473
WORKOUT SIX – TRANSFORM: 20
20 minutes
Trainer: Shaun T
Short on time? Then THIS is for you! Trust me… all you'll need is 20 minutes! With Shaun T, you'll always get a killer workout! This program uses a step but for purposes of this group — you can follow the modifier.  You will still feel the burn!
CLICK HERE: https://vimeo.com/305814517
WORKOUT SEVEN – LIIFT4
30 minutes
Trainer: Joel Freeman
An awesome combination of weight lifting and cardio HIIT moves, this workout is sure to give you an amazing burn! This program has given me the best results, hands down. And with only 4 days a week, it's doable for any schedule! Don't have weights? Grab water bottles, jugs, or even a kid and go for it! Modifier is provided.
CLICK HERE: https://vimeo.com/346948380
WORKOUT EIGHT – MORNING MELTDOWN
30 minutes
Trainer: Jericho McMatthews
This is a sample workout from the hottest new fitness program around, Morning Meltdown 100! It is a 100 workout program aimed to get you working out first thing in the morning. Is it required? NO. Is it recommended? Absolutely! The workouts are short, sweet and with the incredible DJ Jesse Blake spinning live for each workout, you're sure to get your groove on! CLICK HERE: https://vimeo.com/344086565
WORKOUT NINE – 10 ROUNDS
35 minutes
Trainer: Joel Freeman
This brand new shadow boxing program just launched for coaches and VIPS! But you can try it here now! This utilizes boxing techniques and blends it with weight training and endurance moves for a full on sweat sesh! Perfect for any fitness level! 
CLICK HERE: https://vimeo.com/396052547
WORKOUT TEN – SHIFT SHOP
35 Minutes
Trainer: Chris Downing
Without a doubt one of the most inspirational trainers in the world, Chris brings you strength, agility, and power to help you torch calories. Train like an athlete, but follow modifications if needed!
CLICK HERE: https://vimeo.com/292795436
COVID-19: If you are experiencing symptoms or want to learn more, please visit the CDC's website for the most up to date information.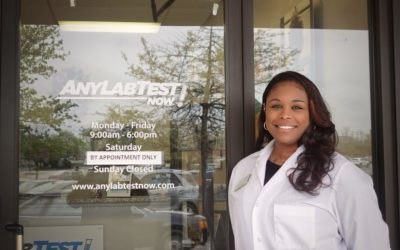 Any Lab Test Now is a locally owned franchise located in the West End of Richmond, in the same shopping area as Walmart. This business is woman owned by an amazing Richmond native and mom of twin girls. She has been in the healthcare industry for over 14 years,...