Deb Ponzek is a mom, chef/restauranteur and author of several popular cookbooks including The Dinner Survival Cookbook and The Family Kitchen. This week she's sharing her go-to fall cocktail for entertaining—an easy mulled wine perfect for sharing with neighbors on Halloween or enjoying by the fire pit with friends.
Spiced Mulled Wine
Serves 10 to 12
Ingredients:
Peel of 1 lemon
Peel of 1 orange
Two 750-ml bottles red wine
1 1/2 cups sugar
1 vanilla bean, split (optional)
8 whole cloves
12 whole peppercorns
One 2-inch piece fresh ginger, peeled and thinly sliced
1/4 teaspoon ground nutmeg
4 star anise
Directions:
Using a vegetable peeler, remove the peel of the lemon and orange, being careful not to pick up any of the bitter white pith from the fruit.
Cut the peel into strips and combine in a large pot with the wine, sugar, cinnamon sticks, vanilla bean, cloves, peppercorns, sliced ginger, nutmeg, and star anise.
Bring to a simmer over low heat and let simmer gently for about 20 minutes.
Strain and serve warm.
Grocery Store or Pumpkin Patch? Where should you buy your fall pumpkins?
Natalie lives in Houston with her family of four!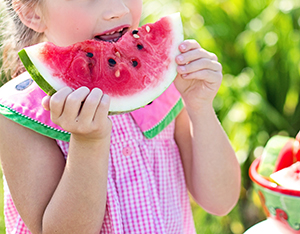 Cooking healthy meals that are delicious and satisfying can be hard work for us moms! Lately, I've been struggling to curate a healthy breakfast, lunch and dinner that include all of the important nutrients and vitamins, only to have my kids come to the table with a stubborn palate.