This content was provided by Shilpa Rosenberry, founder of Scouted and a regular contributor for The Local Moms Network. Scouted is a New Canaan, CT-based social network designed to cut through the clutter on grocery store shelves. Basically, Shilpa's site and accompanying app can help you find products you and your family will love, fast!
Summer is here and for us moms that means more time at the pool, beach, playground…and being asked for snacks about once every waking hour!  Sound about right?
Kids' snacks are forever changing and we thought we'd share the top snacks moms on Scouted have been doling out this summer! Check them out! If you've tried them, post a comment below!
Popcorners White Cheddar – One of our top rated snacks on Scouted continues to be a favorite in summer months. Moms are bringing bags to the beach, pool and playground. Gluten-free, no artificial flavors, colors or preservatives. Made with non-gmo corn.
Stonyfield Yogurt & Hummus with Multigrain Tortilla Chips – These snack packs by Stonyfield launched last year combining flavored organic yogurts with graham crackers, cookies and pretzels. For those who prefer savory flavors, now there's Yogurt and Hummus with tortilla chips. There's also Roasted Red Pepper and Garlic hummus with pretzels.
Off the Eaten Path Chickpea Veggie Crisps– This is the latest take on veggie chips made with real vegetables and no artificial preservatives and flavors. This one contains rice, chickpeas, peas and purple sweet potatoes.
Grapery Cotton Candy® Grapes –These cotton candy grapes have become a summer staple. Adults and kids agree that these green grapes taste just like sweet cotton candy. Moms love to slice into halves (or quarters for even younger kids), freeze and eat them. Be sure to watch your little ones as they eat them, to ensure they're not a choking hazard.
Quinn's Pretzels– Pretzels are a summertime favorite. These are whole grain, non-GMO and gluten free pretzels with traditional sea salt. Other varieties include Peanut Butter Filled, Dark Chocolate Filled, Deli Rye Style and a Touch of Honey.
Babybel Mini Rolls– This is the next generation of string cheese – portable and individually portioned with no artificial flavors, colors or preservatives.
Lesser Evil Grain Free Paleo Puffs– These are organic, grain free puffs combining cassava, coconut and sweet potato. Gluten-free, dairy free, paleo and vegan. 
To see more food solutions recommended by moms like you and to add and review your favorite food products in exchange for the latest and greatest food samples, sign up on scoutedfood.com. It's free!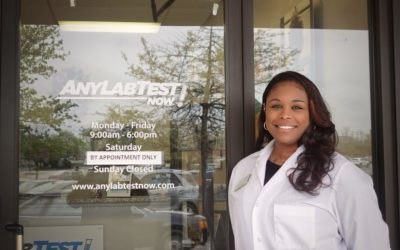 Any Lab Test Now is a locally owned franchise located in the West End of Richmond, in the same shopping area as Walmart. This business is woman owned by an amazing Richmond native and mom of twin girls. She has been in the healthcare industry for over 14 years,...