This post was contributed by Kate Santangelo of our Monmouth Moms site!
Are you hosting this Thanksgiving? Bringing the wine to your in-laws? Just want to have a little vino while you're cooking? I've got you covered! As a former wine professional, I learned a lot over the years. Where wine comes from, how it's made, the type of grape and how it's aged all factor into what ends up on your table. When I started working in the wine industry, I was so intimidated by how much you needed to know. Over time I learned it doesn't have to be so complicated. It's just a beverage after all, and it's incredibly subjective. You like it? Great!  Even if it's in a box. And yes, there are some good boxed wines out there! Below I've listed some great options for your Thanksgiving courses next week. All of these wines are available throughout Monmouth County, but call before you head out to make sure they're in stock!
Rose
Rose is probably one of my favorite wines, mostly due to its versatility. There's a reason the Rose ALL Day phenomenon has taken over the  shelves at your wine local shop. It's mostly because it's easy drinking, pairs well with lots of different dishes (including turkey!), and on the drier side often with strawberry and watermelon notes. Yum!
One of my favorites is 'Fleur de Mer' from Cotes de Provence, France and is usually priced around $18.99.
Pinot Noir
Oh Pinot Noir, how I love thee. I'm personally not a big fan of big-bodied reds. Unless I'm eating something very heavy, and the wine goes well with it, you won't find me drinking Bordeaux or Cabernet. Pinot Noir is light to medium-bodied, often has notes of cherry and rhubarb, and is perfectly paired with turkey, candied yams, and cranberry sauce. It's easy-drinking on its own, so stock up on a few more bottles of this red if you're expecting a crowd!
I've been loving '90+ Cellars' Lot 125′ Pinot Noir from Monterey County, CA, priced around $14.99.
Zinfandel
Zinfandel is a classic Thanksgiving wine, especially if you enjoy a heartier red with dinner. It's usually rich, has notes of plum and other jammy fruits, and is always a little peppery. It goes well with turkey and lots of gravy, and even some desserts!
Serving a crowd? Try 'Bota Box' Old Vine Zinfandel (3 Liters to a box!), $19.99.
Chardonnay
Often described as the Queen of California white wine, Chardonnay is a Thanksgiving staple. It's rich and buttery, and pairs well with butternut squash soup, mashed potatoes, and lots of different casseroles.
Most of my family drinks it, and one of their favorites is 'Butter' Chardonnay ($18.99).
Sancerre
Sancerre has become increasingly popular over the last ten years, and I'm not surprised. It's made from Sauvignon Blanc grapes in Sancerre, France. Unlike some of the other highly acidic and citrusy Sauvignon Blancs on the market, Sancerre is delicate, crisp, and balanced. Pair it with salad, stuffing, and roasted Brussel sprouts.
I like 'Reverdy La Reine' Sancerre, you can find this on the shelf for $29.99.
Riesling
If you're a fan of sweeter wines, Riesling is definitely a great choice for Thanksgiving. It's bright, fruit-forward, and compliments some of the sweeter holiday dishes. Riesling pairs well with pumpkin and pecan pies, glazed ham, and sweet potato casserole. Depending on how dry the Riesling is, it can also pair with turkey nicely.
'Nik Weis Selection Urban Riesling' is a popular choice from Mosel, Germany, $11.99.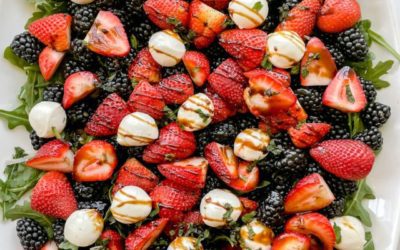 Summer is synonymous with salad, and now salad is synonymous with Kathleen Ashmore, Tik Tok Star and Local Moms Network Food Contributor. Her "Hungry Lady Salad" series is turning even salad skeptics into believers, and this Berry Caprese Salad is her latest...