Traumatic brain injuries can be life changing experiences for both the victim and the people in their lives. They're some of the most detrimental injuries a person can face. Unfortunately, many people who suffer a brain injury will no longer be able to function in the same way.
Whether the shift in their life is mild or extreme, it often requires the ongoing aid and support from loved ones. Because of the care that's necessary in these situations, organizations like the Brain Injury Association of Virginia (BIAV) have formed to help make life a little easier for brain injury victims.
What is the Brain Injury Association of Virginia?
The mission of the Brain Injury Association of Virginia focuses on education, awareness, support, treatment, and research in order to help improve the quality of life of those affected by these injuries. BIAV understands the complexity of brain injuries and they aim to support victims, their families, and health professionals throughout the state who are directly affected by them.
What is their role in the community?
BIAV offers educational content such as live webinars, which are also available to watch as a replay. These webinars are great for professionals working with people who've suffered a brain injury, as well as caregivers and family members who have been affected.
In October of this year, BIAV is hosting a Charity Golf Classic in Richmond, VA. Players can sign up as a team or as an individual. Raffle tickets are also available to purchase for a chance to win some great prizes. Sponsorship opportunities are also available. Though BIAV is aware COVID-19 may have an impact on the tournament, plans are currently moving forward as usual. This is such a fantastic way for golfers to spend a day doing what they love for a great cause!
Camp Bruce McCoy is also an incredible experience for adult brain injury survivors in the community. This week-long summer camp held in Chesapeake, VA is full of outdoor fun and adventure—swimming, hiking, canoeing, and team sports are just a handful of activities camp-goers can enjoy! This camp is a great way for caregivers and family members to have a little time to themselves while their loved one has an amazing week away. This camp is set to run twice in the summer of 2021.
In addition to the amazing events BIAV organizes, support groups are also offered throughout the community for victims and caregivers who are struggling emotionally.
If you or a loved one experienced a traumatic brain injury, be sure to seek help immediately so that you're able to get the support you need and deserve.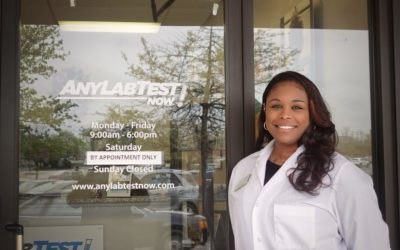 Any Lab Test Now is a locally owned franchise located in the West End of Richmond, in the same shopping area as Walmart. This business is woman owned by an amazing Richmond native and mom of twin girls. She has been in the healthcare industry for over 14 years,...