Schools and districts around the Richmond area are back in session, but the delivery of instruction definitely varies. This unprecedented back to school year has so many moms serving as teacher too. Some moms have set up learning pods within their school community. Some moms are monitoring a remote learning experience balancing children's technological needs while printing out worksheets for them to complete. Fed up with the amount of screen time and schedule of virtual learning, some moms have decided to homeschool.
No matter what educational journey you have chosen for your children, two factors remains the same. The first is the fact that this takes a lot of time, which is precious for moms. The second is the fact that our elementary school children, especially our youngest ones in kindergarten, first, second, and third grade, are suffering the most. Significant gaps in learning have taken place during these years where the focus on the foundation skills of reading and math are taught. How can we ensure that our young learners do not fall any further behind?
First, remember that children learn best through reading, writing, math, conversation, play, and exploration.  How many experiences a day do your children have with these six components? It is also important to remind yourself that you should not be recreating a seven-hour school day. Incorporate 30 minutes a day of reading, 15-20 minutes of math practice, and daily writing.  Ask children questions about what they are reading and what the text makes them think about or reminds them of. Practice math facts daily to increase memory and automaticity of number sense. Incorporate real-life experiences that involve reading and math such as reading labels on foods, take out menus, or signs around the neighborhood on a nature walk. Shopping online or rearranging rooms involve mathematical life skills including money and measurement. Cooking a meal together combines the use of reading and math.
Research shows that early literacy skills are a strong indicator of reading success in school and life. Reading and math are also very systematic and developmental. Each child's journey is unique, but the sequence remains the same. Children can't spell or read until they understand letter sound relationships. Children will not be able to count money or understand fractions if they do not have good number sense. As months go by and children continue on to the next grade level, we want them to excel, which means the foundational skills of reading and math should be present. We want children to feel confident and competent in these two subjects that are needed to complete anything in life.
This is the reason my sister and I created The Starke School – to help moms help their K-3 children understand and maintain the foundations of reading and math. The developmentally appropriate system takes place online and offline, anytime and anywhere, at your own pace and convenience. Families can purchase a monthly subscription to enroll their children at any time. The Starke School can be used as a tutoring program, supplemental learning program, or a support to a homeschool curriculum for an entire family. In addition to one-on-one virtual reading tutoring, in-person reading tutoring is available around the Richmond area.
Thanks to a collaboration with Richmond Moms, we are pleased to give the gift of time to provide academic support to a deserving mom in our community for a month. Please email us at [email protected] to be entered!
Kathryn Starke is a literacy consultant, author, Richmond native, and founder of Creative Minds Publications and The Starke School. Her books include Amy's Travels, Tackle Reading, and A Touchdown in Reading: An Educator's Guide to Literacy Instruction. Visit www.creativemindspublications.com and https://kathrynstarke.wordpress.com/the-starke-school/ to learn more.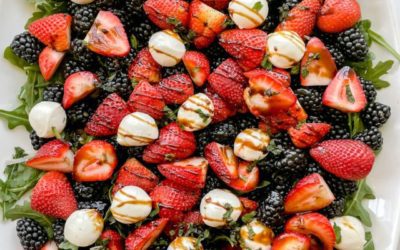 Summer is synonymous with salad, and now salad is synonymous with Kathleen Ashmore, Tik Tok Star and Local Moms Network Food Contributor. Her "Hungry Lady Salad" series is turning even salad skeptics into believers, and this Berry Caprese Salad is her latest...