These elegant crostini are a surefire winner for all your spring get-togethers, loaded with fresh asparagus, two types of truffle flavor (oil and salt) and fresh lemon. Thank you to the talented moms from
Habitual Hostess
for sharing!
Truffled Asparagus Crostinis
Ingredients:
Asparagus:
1 bunch of medium asparagus
2 Tablespoons truffle oil
1 teaspoon salt
1/2 teaspoon fresh ground pepper
1 Tablespoon lemon juice
1/2 cup shaved Parmesan (we use a vegetable peeler)
1 teaspoon truffle salt
Crostinis:
1 baguette
1 garlic clove, halved
2 Tablespoons olive oil
Directions:
Preheat the broiler in your oven to high. Slice baguette into 1/4 inch pieces. Brush each piece with the olive oil, pop into the oven and broil 3-5 minutes until toasted. Remove from oven and rub each piece of bread with garlic piece.
Slice the asparagus on the diagonal, into 1/4 inch slices. Warm the truffle oil in a skillet over medium low heat. Add asparagus, salt and pepper and sauté for 2 minutes until slightly cooked but crisp. Remove from heat and add in lemon juice, truffle salt and Parmesan cheese.
Spoon asparagus mixture over crostini, inhale immediately 😉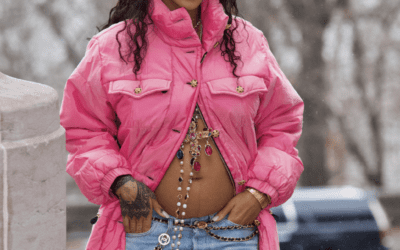 Congrats to Rihanna on the birth of her first child! We love her fashion forward maternity style – from baring her belly to announce her pregnancy to her high fashion looks that had paparazzi covering her pregnancy like it was the Met Gala. When interviewed by...