If you loved the recent basil recipe roundup from Megan Sullivan of The Local Moms Network, here is one more for your list—this time paired with another favorite summer garden/farmer's market ingredient, rhubarb! Not only is this crisp a delicious dessert, but it's dairy and gluten-free, so great if you (or your kiddos) are avoiding them. This crowd-pleasing recipe is a sure-fire family favorite, says Megan: "My kids love to help make and eat this!"
VEGAN & GLUTEN-FREE BERRY BASIL RHUBARB CRISP
Ingredients
1 handful of fresh basil chopped
1 cup blueberries
2 1/4 cups rhubarb
3 table spoons of sugar (I use coconut)
1 cup gluten-free rolled oats
1/2 cup coconut flour or almond flour
1/4 cup agave or maple syrup
1 pinch sea salt
5 tbsp room temperature Coconut Oil
1 lemon
Instructions
Preheat oven to 350 degrees and grease a baking dish. I use 8×8 baking dish.
Add washed fruit and basil directly to the dish and toss with sugar, and 1 tablespoon of coconut flour (or your flour of choice).
Add zest of one lemon and juice of one half of the lemon. Let sit for 10 minutes.
Now it's time to make the topping! Add crisp ingredients (remaining flour, agave/syrup, salt, oats, coconut oil) to a mixing bowl and combine together until all ingredients are mixed (I use my hands). Add to the top of the fruit mixture.
Bake for 45-50 minutes or until the fruit is bubbling and the top is crisp and golden brown. Check mid-way through to make sure the top is not burning. (You can also cover with foil for half of the baking time to prevent this.)
Cool before serving. I serve with whipped cream or ice cream!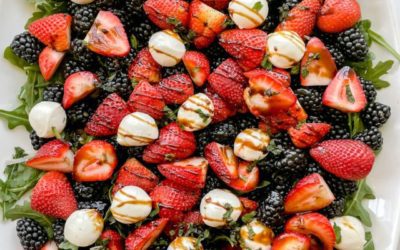 Summer is synonymous with salad, and now salad is synonymous with Kathleen Ashmore, Tik Tok Star and Local Moms Network Food Contributor. Her "Hungry Lady Salad" series is turning even salad skeptics into believers, and this Berry Caprese Salad is her latest...