Thank you to our food contributor CatwithaK Cooks for sharing this delicious plant-based taco recipe with us. Introducing new vegetables (like cauliflower) to kids can be tricky. Experts recommend serving it in a form they are familiar with (in this case, tacos). Try it for Taco Tuesday, or anytime you need a quick, nutritious meal.
Roasted Cauliflower Tacos with Lime Avocado Crema
1 large head of cauliflower, broken into florets
1 tsp onion powder
1 tsp chile powder
½

tsp paprika

1 tsp Kosher salt
2 Tbsp olive oil
1 large avocado, halved

1/2 cup fresh cilantro
juice from 1 lime
¼ teaspoon Kosher salt
8 corn tortillas, warmed
½ red onion, sliced and pickled
½

cup Queso fresco cheese, crumbled

¼ cup fresh cilantro
2 limes, juiced
Directions:
Preheat oven to 425 degrees F.
Place a rack in lowest position; preheat oven to 450

°

Arrange cauliflower on a large baking sheet and add paprika, chili powder, onion powder, salt and olive oil.  Toss to coat evenly.
Roast for 35-45 minutes until cauliflower is browned all over, stirring halfway through to cook evenly.
While the cauliflower is roasting, make the crema:
Combine all ingredients in a blender and blend until smooth and creamy.
Warm tortillas by charring on a gas grill open flame or microwaving them for 30 seconds or so.
On each tortilla, spread with avocado lime crema, add the cauliflower, and top with pickled onions, queso fresco, cilantro and lime.  Enjoy!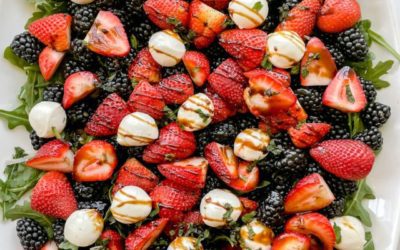 Summer is synonymous with salad, and now salad is synonymous with Kathleen Ashmore, Tik Tok Star and Local Moms Network Food Contributor. Her "Hungry Lady Salad" series is turning even salad skeptics into believers, and this Berry Caprese Salad is her latest...