This DIY Holiday Balloon Parade from The Local Moms Network contributor Maria Provenzano is perfect for anyone swapping their traditional parade tradition for more social distance-friendly activities this year!
DIY Holiday Balloon Parade 
Materials
Styrofoam balls

Skewers

Card Stock OR foam sheets

Acrylic Paint

Embellishments of your choice
Directions
1. The first thing you want to do paint your foam balls
2. For easier painting & to avoid them from rolling around put the balls on a toothpick to hold place or just a plastic cup
3. Let dry
4. Once your foam balls are dry it's time to attach the figures/embellishments
5. Using card stock, or foam sheets, cut out whatever shapes/figures you desire for your character
6. Once you've cut out your shapes out it's time to glue. Use a low temperature hot glue to attach figures onto the foam balls
7. If you're making a top hat: spray paint a plastic cup black & then cut out a circle out of foam sheet. Next just glue the cup to the foam sheet!
8. Add any other embellishments you'd like to go along with your character
9. To create the image that the balloons are being held down by string all you need to do is hot glue on a couple skewers around the balloon!
10. Ta-da!
For more holiday fun from Maria, check out these other DIY ideas:
Colorful Leaf Sugar Cookies
https://www.fromscratchwithmaria.com/blog/leaf-sugar-cookies
DIY Pie Garlands and Placemats
https://www.fromscratchwithmaria.com/blog/diy-pie-garlands-placemats
DIY Harvest Centerpiece
https://www.fromscratchwithmaria.com/blog/diy-fall-centerpiece?rq=thanksgiving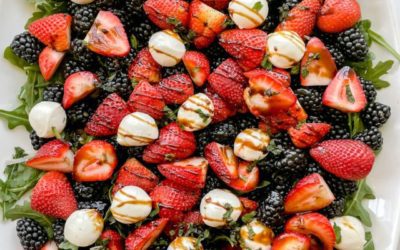 Summer is synonymous with salad, and now salad is synonymous with Kathleen Ashmore, Tik Tok Star and Local Moms Network Food Contributor. Her "Hungry Lady Salad" series is turning even salad skeptics into believers, and this Berry Caprese Salad is her latest...