This cocktail was shared by Lindsay Wernert Potter, the cocktail contributor for Greenwich Moms, from local restaurant Little Pub.
Want to sip on something more festive this season than a Cab? Try mixing up this Fall cocktail. It uses cinnamon sticks, fresh apples and Tito's vodka – an instant classic. Cheers to Fall! 
Fallen Apple
Ingredients
2oz Tito's vodka infused with cinnamon sticks & fresh apples
6oz of ginger beer
Bitters
Agave
Fresh apple & cinnamon stick (for garnish)
Lemon (optional garnish)
Instructions
Add cinnamon and apple-infused vodka to a shaker with ice.
Top with ginger beer, dash of bitters and a splash of agave.
Shake or mix with ice and pour into glass.
Garnish with apple, cinnamon stick and lemon (optional) and serve.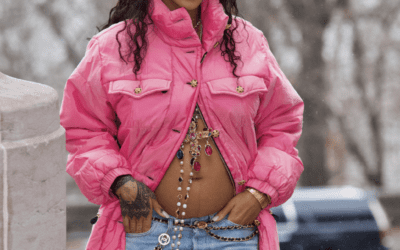 Congrats to Rihanna on the birth of her first child! We love her fashion forward maternity style – from baring her belly to announce her pregnancy to her high fashion looks that had paparazzi covering her pregnancy like it was the Met Gala. When interviewed by...