This easy crisp makes for a healthy Thanksgiving dessert or a yummy breakfast any morning. Skip peeling the apples, and you'll save time and boost the fiber content.
Thank you to our food contributor Kathleen Ashmore for sharing. Go to kathleenashmore.com to find all her recipes or follow her on Instagram @kat_can_cook. 
No-Peel Apple Almond Crisp
Serves 6
Filling:
3 medium large apples, cored and sliced thinly
1⁄4 cup unsweetened almond milk
Zest from 1 lemon
1 teaspoon vanilla extract
1 Tablespoon arrowroot powder, or 2 teaspoons corn starch
1⁄2 teaspoon kosher salt
Topping:
1 cup almond flour
1 cup old-fashioned rolled oats
1⁄2 cup sliced almonds
1⁄3 cup unsweetened coconut flakes
1⁄2 cup Grade B maple syrup
1 teaspoon ground cinnamon
1⁄4 teaspoon ground nutmeg
1⁄2 teaspoon kosher salt
1⁄2 cup coconut oil, room temperature (can sub butter)
Directions
Preheat the oven to 375 degrees F.
Make the filling: In a medium bowl, gently toss sliced apples with the rest of the ingredients until combined, then pour into a pie plate or cast iron skillet and spread evenly. Set aside.
Make the topping: In a large bowl, combine all ingredients and mix with your hands until it starts to clump together. This won't take long.
Arrange the topping on the apple filling and bake for 40-45 minutes until the fruit is soft and bubbling and the top is golden brown.
Serve warm with coconut whipped cream as I do, or with regular whipped cream or ice cream.
Yummy Toddler Food is one of our absolute favorite resources online for, well, really yummy toddler food. Whether it's mini pumpkin muffins or baked chicken tenders, recipe developer, blogger and mom of two Amy Palanjian takes foods most kids like—like...
This delicious but simple veggie dish can be served as a side or the main dish. What better way to kick off the weekend than with zesty artichoke recipe!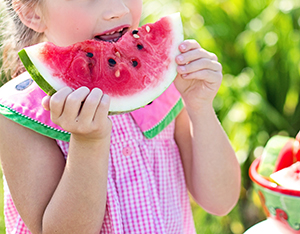 Cooking healthy meals that are delicious and satisfying can be hard work for us moms! Lately, I've been struggling to curate a healthy breakfast, lunch and dinner that include all of the important nutrients and vitamins, only to have my kids come to the table with a stubborn palate.