These days, we're all about making holidays a little *extra*. These "Pretty in Pink" Deviled Eggs from celebrity nutritionist and
Today Show
contributor Joy Bauer, RD, will certainly make your Easter table sparkle a little brighter.  "You can't go wrong with eggs—the whites provide satiating protein and the yolks deliver vitamin D, iron, choline and lutein and zeaxanthin, antioxidants that help protect your eyes," says Joy. "Here, I've reimagined classic deviled eggs by swapping out the yolks and replacing them with heart-healthy guac or hummus."
"Pretty in Pink" Deviled Eggs
3 large eggs, hardboiled and shell removed
2 tablespoons apple cider vinegar
1 can (16 ounces) pickled beets
½ tablespoon pink peppercorns
½ teaspoon salt
2 tablespoons hummus
2 tablespoons guacamole
Optional garnishes: paprika, chopped chives, sriracha
PREPARATION:
 Add eggs to large mason jar. In a small bowl, combine apple cider vinegar, pickled beets with liquid, peppercorns, and salt. Pour mixture into mason jar, making sure eggs are fully coated in liquid. Refrigerate overnight.
Remove eggs from mason jar. Slice the eggs in half lengthwise and discard the yolks. Fill the empty center of egg halves with either 2 teaspoons of hummus or 2 teaspoons of guacamole. Sprinkle a dash of paprika, chopped chives, and/or a dash of sriracha on top of eggs.
Want to be the first to see Joy's latest recipes? Check out her interactive Amazon Live show, Health, Happiness, Joy, on every Tuesday night at 7 pm ET! You can find all the episodes, follow her page and get more info at joybauer.com/amazon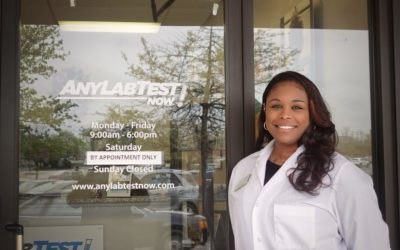 Any Lab Test Now is a locally owned franchise located in the West End of Richmond, in the same shopping area as Walmart. This business is woman owned by an amazing Richmond native and mom of twin girls. She has been in the healthcare industry for over 14 years,...